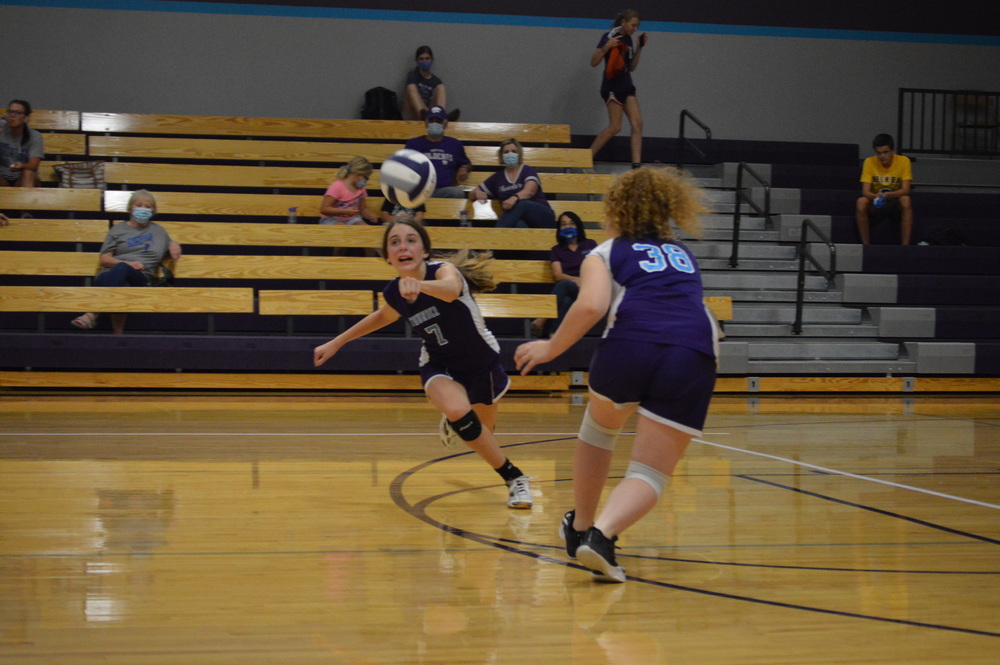 NCMS Volleyball Challenged by SPPS
Addy Frye
Thursday, October 15, 2020
The Nemaha Central eighth and seventh grade A-team volleyball players got to play an exciting, competitive game against SPPS on Tuesday, September 22. It was finally time to play a match with the other school in our town. Unfortunately, our teams came up short of winning.
Both eighth-grade and seventh-grade matches were played in the Nemaha Central High School Main Gym. Eighth grade played first. The beginning game found the Thunder team coming up short with a score of 21-25. The Thunder team tried to do better in the second game, but came up short, losing the game 17-25. The eighth grade B-team played most of the third game and was defeated, 3-15. The Thunder girls played hard and know now what they need to work on to improve.
Kaitlyn Hammes said, "It was nerve-racking to play SPPS, but also very exciting."
Seventh graders played shortly after the eighth grade. The Thunder girls came close to a win several times in the first game but ended up losing 29-27. The next 2 games were not as close as the Thunder girls lost both of them, 10-25 and 9-15. All-in-all, they worked hard and were disappointed that they didn't get the first game win.
Regan Sloop said, "I think we could have beat them if we didn't get so down after a couple of misses, but in the end, I think we did pretty well."
Both Thunder teams were very excited to play SPPS. Even if they did not leave victorious, they all played hard and worked for their points. It will be exciting to see these teams combine in the future for some great volleyball matches!
Click the link below for more photos: