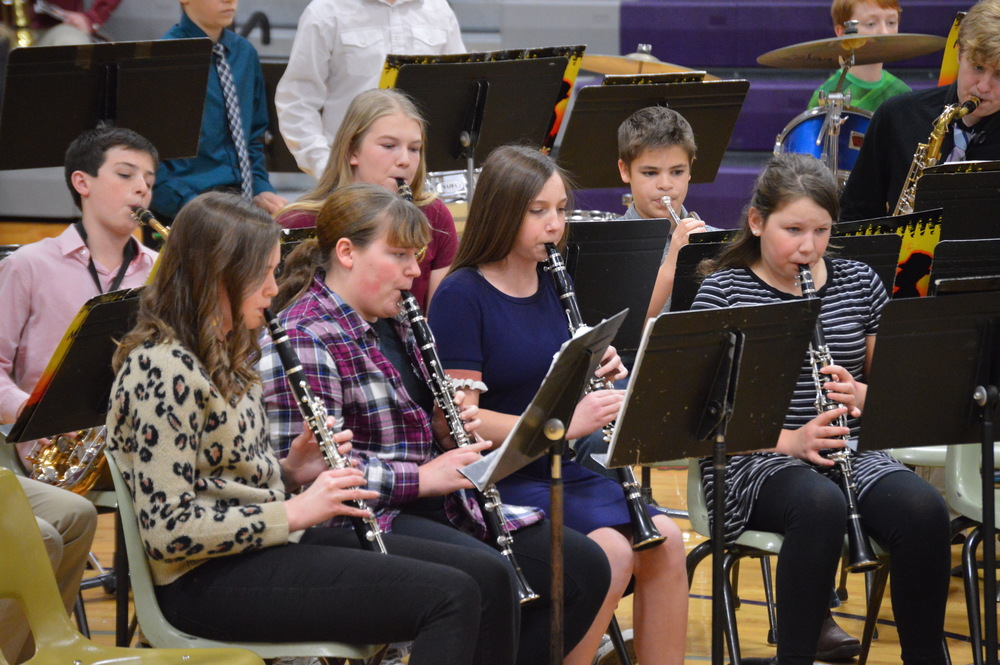 NCEMS & SPPS Winter Concert
Destinee Cleveland
Friday, December 20, 2019
The Nemaha Central Elementary and Middle school hosted a winter concert on Thursday, December 19. The Steel Thunder played along with the band students from Sts. Peter & Paul and Nemaha Central from fifth, sixth, and seventh & eighth grade. The concert was held at the Nemaha Central High School gymnasium and whoever came to watch was able to sit anywhere there was an open seat.
The fifth grade performed five songs. "Rolling Along," "Hot Cross Buns," "Listen to our Sections," "Lightly Row," and "Jingle Bells." They gave the audience a magical performance and the crowd was so amazed by their music.
The sixth grade performed "Hard Rock Blues," "Up on the Housetop," "Jolly Old St. Nick," and "Donut Factory." They also performed great and many enjoyed the part where different sections stood up as they were playing.
"I enjoyed playing the 'Donut Factory'," said Jordan Lewis.
The seventh and eighth grade performed together and their songs were "Pride of the Band Brigade," "Super Hit Mega-Mix," and "A Christmas Finale." They performed with so much skill! Everyone's favorite song was "Super Hit Mega-Mix" and they gave their best effort on it.
After the bands performed, special music was presented by Zoey Sudbeck. She played the guitar and sung the tune "Little Drummer Boy." She did an amazing job with her talent.
Finally, the Steel Thunder performed under the direction of Mrs. Chelsey Haverkamp. There are 11 members in the Steel Thunder and it is made up of fifth and sixth graders. They performed "Jingle Bells," "Jump in the Line," "Jamaica Farewell," and "Never on Sunday." They switched up who was playing each drum and all members did an excellent job.
Overall, the concert was a success and the band members performed very well. The students did such a good job and the audience gave a lot of positive comments and cheered and clapped when the band finished each song. Special thanks to the band teacher Mr. Todd Krause for helping the band students get through this semester and for making great music. The students worked very hard for this concert and all of their hard work paid off.
Click on the link below for more Winter Concert pictures.
https://www.facebook.com/pg/Nemaha-Central-Elementary-Middle-School-104388706286859/photos/?tab=album&album_id=2731787596880277