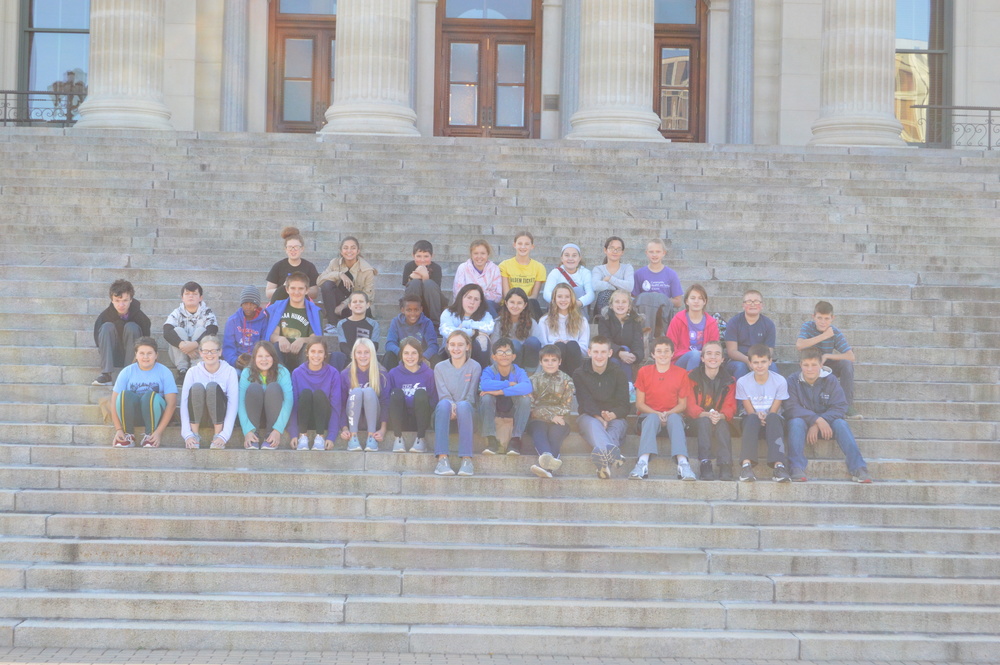 NCMS 7th Grade Field Trip to the Topeka State Capitol Building
Abby Winkler
Thursday, November 07, 2019
The 7th graders from Nemaha Central went to the State Capitol building in Topeka on Friday, October 25. They traveled by bus and were gone during the school day. Several of the middle school teachers sponsored them on this field trip.
During their tour of the Capitol building, they saw the golden rail, Senate chamber, House of Representatives chamber, and some flags from different states and countries that occupied Kansas. The students were also able to tour the dome and step out on the platform at the top.
After touring the State Capitol building, where they viewed many interesting things, they went to the gift shop. As they were leaving they took a class picture on the steps of the State Capitol Building.
Feryn Feldkamp said, "It was fun to learn about the history of Kansas."
Next, students boarded the bus and headed to Gage Park were they ate their sack lunches. The weather was pleasant and the students got to play kickball, volleyball, and football when they finished lunch.
Damien McAuliffe said, " I had a good time!"
Click on the link below to view more field trip pictures.
https://www.facebook.com/media/set/?set=ms.c.eJxFU9eRxUAI6~_iGHPpv7GbhIf~%3BKCqzAEiyUxSJc5t5~%3BMoCWVTmHKwBfQH6AkbpzKfEPcB~_P4gaDH9BJB0g~%3BiaQfoLSAHeA1gMWZprxYC0iCl3GDBedLST8P74nNQmyuqcQHzKStAOKleDBMY00v1mkfFw3GFGSiYNgy8hiaL5YA~_DYmaCy0noc2TGMlCo~_e2EgwmkeCgpJyAL3Xps5gSjdY8vQRAYa8PrITHqoruQqbxoMVHtN6tn2msxeVK6g5HiOrjlEr~_QraZTOWnTYpgjVk2ki~_t8QcneQdncsuihmMXonDdAFs7n17ACRFNLee8CjZSQWMeZzAtIT397jBSielcJaVMykHPHwZBob1MFBQlT9Tq1tD9Vyypf0DtzC5PQ~-~-.bps.a.2612073602185011&type=3