RESERVE YOUR SEATS NOW FOR NCHS'S SPRING PRODUCTION: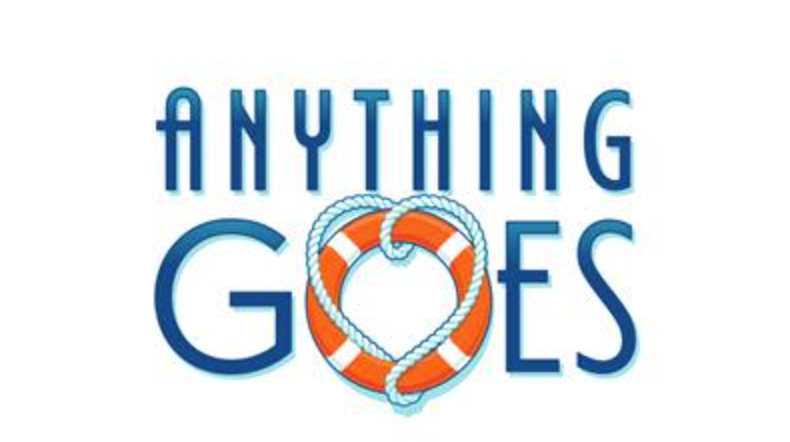 Music and Lyrics by Cole Porter
Original Book by P.G. Wodehouse & Guy Bolton
and Howard Lindsay & Russel Crouse
New Book by Timothy Crouse & John Weidman
ANYTHING GOES is presented by arrangement with Concord Theatricals on behalf of Tams-Witmark LLC. www.concordtheatricals.com
This version of ANYTHING GOES was originally produced on Broadway by Lincoln Center Theater in 1987
The NCHS Thespians and singers have begun rehearsals for the musical ANYTHING GOES! It is set aboard the ocean liner S. S. American, where nightclub singer/evangelist Reno Sweeney is en route from New York to England. Her pal Billy Crocker has stowed away to be near his love, Hope Harcourt, but the problem is Hope is engaged to the wealthy Lord Evelyn Oakleigh. Joining this love triangle on board the luxury liner are Public Enemy #13, Moonface Martin, and his sidekick-in-crime, Erma. With the help of some elaborate disguises, dancing sailors and good old-fashioned blackmail, Reno and Martin join forces to help Billy in his quest to win Hope's heart.
ANYTHING GOES premieres Friday, March 25 at 7pm. Tickets are $10 at the door: there is no reserved seating. Saturday, March 26 will be a dinner theater at 6 pm. Dinner theater tickets are $20, payable to NCHS Theater. RESERVATIONS ARE REQUIRED! Email Angelia Steiner at asteiner@usd115.org or call/text her at 785.294.2087. You may also call NCHS at 785.336.3557. DEADLINE TO RESERVE DINNER THEATER TICKETS IS WEDNESDAY, MARCH 23. There will also be a matinee on Sunday, March 27 at 2 pm: tickets are $10 at the door: there is no reserved seating.
ANYTHING GOES is directed by Ellie Haynie; she is assisted by Angelia Steiner and Belle Hammes.
The characters in ANYTHING GOES are as follows:
Reno Sweeny, a brassy evangelist turned nightclub singer : Lilly Schultejans
Hope Harcourt, a prominent debutante: Leann Dalinghaus
Billy Crocker, Whitney's young business assistant: Slade Uselton
Lord Evelyn Oakleigh, a wealthy Englishman: Jacob Anderson
Evangeline Harcourt, Hope's mother, a widow: Allison Schmelzle
Moonface Martin, a hapless gangster, Public Enemy #13: Alan Lambrecht
Erma Latour, Moonface's vivacious moll: Kaitlyn Bennett
Elisha Whitney, a goggle-eyed tycoon : Dylan Lorstcher
Ship's Captain Reginald Strong: Cooper Hajek
Reno's Angel (1) Purity: Belle Hammes
Reno's Angel (2) Chastity: Addison Frye
Reno's Angel (3) Charity: Elena Gonzalez
Reno's Angel (4) Virtue: Maryssa Stallbaumer
Fred, the bartender: Carter Lutz
Luke, Chinese person masquerading as a Christian convert: Luis Lambrecht
John, Chinese person masquerading as a Christian convert: Fannie Illes
Chinese person masquerading as a Christian convert
Ship's Purser/FBI Agent: Natalie Felder
Bishop Harry T. Dobson: Levi Kraisinger
Photographer/Old Lady in a Wheelchair: Kyndall Sextro
Passenger Pushing Wheelchair: Alayna Scism
Sailors: Kurt Beck & Marc Beck
Dancers: Sam Holthaus, Tess Walle, Feryn Feldkamp, Presley Lutz, Sarah Haverkamp, Samantha Nordhus, Sarah Hellebrandt